Junior League of Tyler unveils logo for 40th Mistletoe & Magic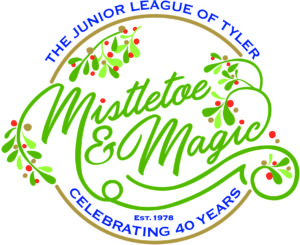 The Junior League of Tyler revealed its 2018 Mistletoe & Magic theme and logo at an event hosted by Velocity Mazda. The unveiling serves as the official kick-off to the planning process for the annual event, now in its 40th year.
The three-day shopping extravaganza in November will feature more than 90 specialty merchants from around the nation as well as parties, brunches, style shows and entertainment.
As one of the Junior League of Tyler's largest fundraisers, Mistletoe & Magic raises vital funds that help financially support local non-profit agencies and community programs. To date, The Junior League of Tyler has given back more than $7.5 million, and hundreds of thousands of volunteer hours, to improve Smith County.
For Mistletoe & Magic Chairwoman Ashley Washmon, the end goal is not the event itself, instead, it's the projects the event raises money to support.  She said, "I love that JLT funds stay with local projects that I can see, and those funds are matched with volunteers making our donated funds have a deeper impact.  It might be children in my son's class that gets a warm jacket for the winter or a family in my neighborhood that finds relief during a difficult time.  When you give local, you are literally helping your neighbor." She continued, "Mistletoe & Magic is definitely a festive tradition that kicks off the holiday season but it's also so much more! JLT is able to pour hope into our community through the funds raised at Mistletoe & Magic. The best place to start changing the world is in your own backyard!"