League Lines – Spring 2022 A note from Holli Shull – President of the Junior League of Tyler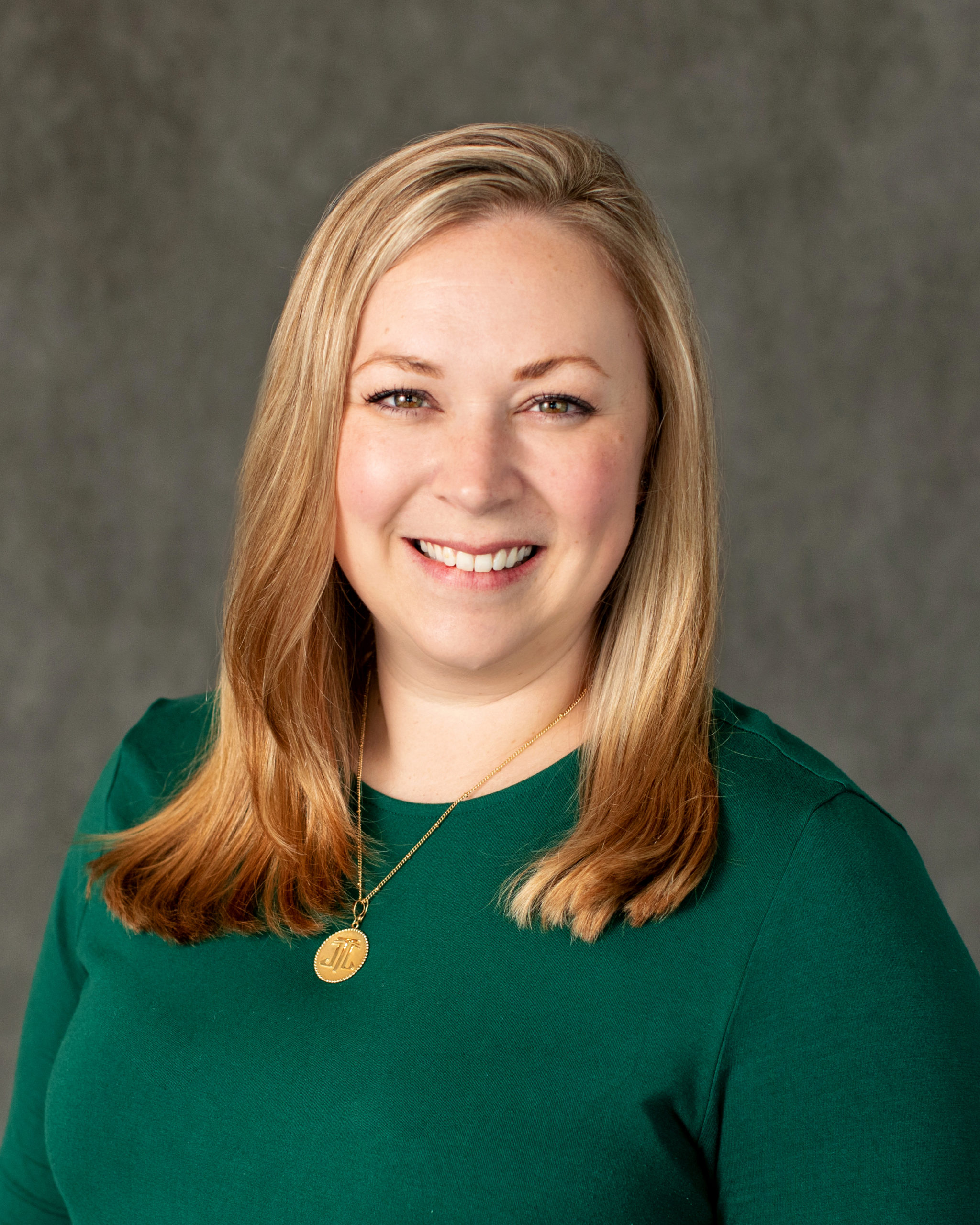 As we approach the end of the 2021-2022 Junior League year, I want to express my sincere thanks to all of our amazing members, patrons, and the wonderful agencies that have partnered with us this year! 
We have been so very fortunate to be able to host our Mistletoe & Magic, Girl Power, Partner Card, and Little Black Dress events throughout the year. These crucial fundraisers and projects are at the heart of our League, and allow us to continue to serve and fund our grants each and every year. As the year winds down for my presidency, we will be hosting Touch A Truck as well as following our members as they participate in Day and Night of Service with some of our partner agencies. 
It has been the greatest pleasure for me to be at the helm of the League this year. I hope and pray that the League will continue to bless and serve so many, including myself, for so many years to come! 
Blessings to you all, and wishing you a wonderful Spring and Summer!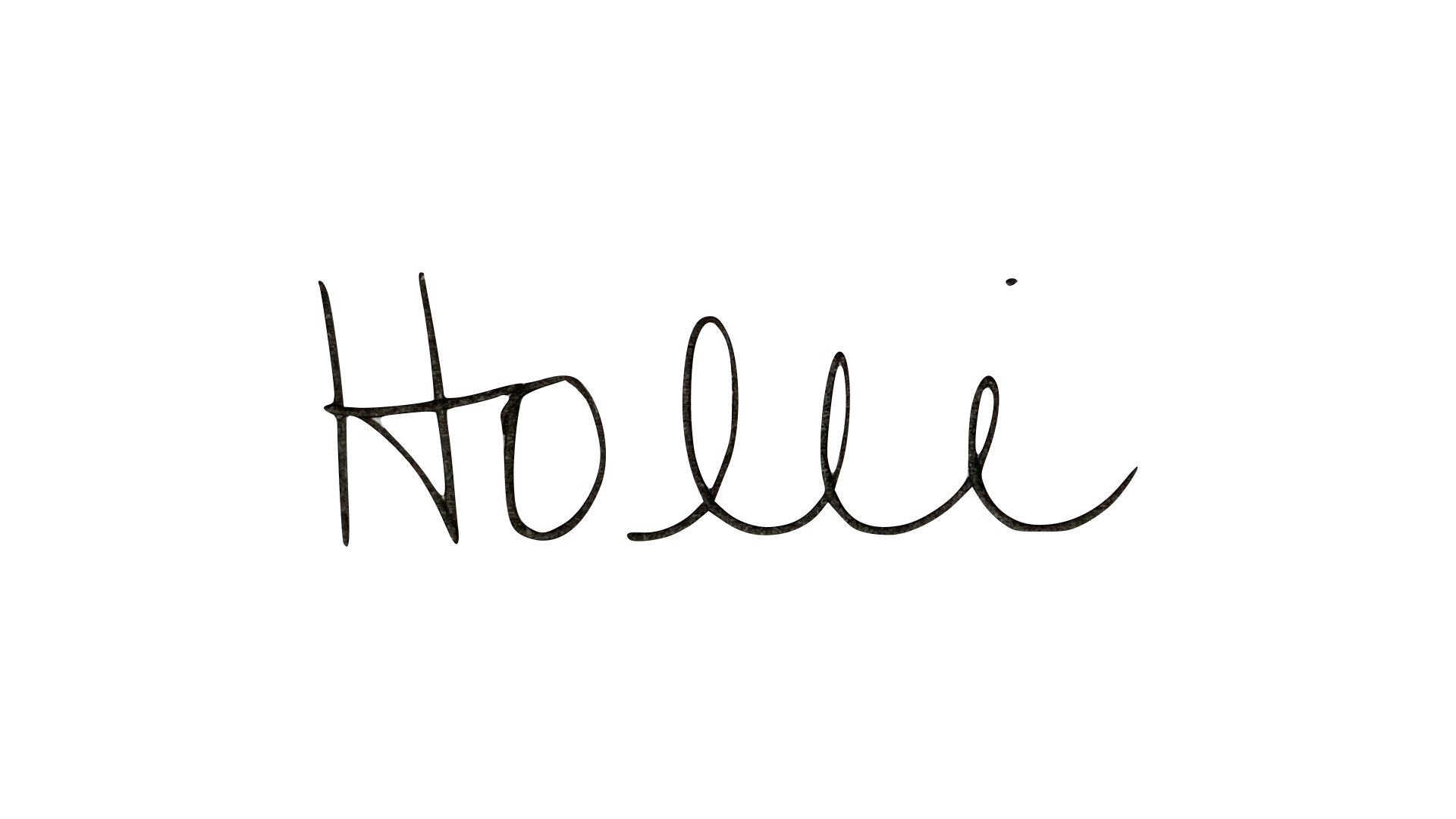 Touch A Truck – Saturday, April 23rd, 2022 
Join us THIS Saturday, April 23rd at Green Acres Baptist Church for Touch A Truck!  We are so excited to host our community again this year – the first time Touch A Truck is back since 2019!   Tickets can be purchased at the gate or in advance by scanning the Venmo QR Code below.  Simply scan the QR code, include your name in the "What's it for" section, and pick up your tickets at TAT Will Call.  Don't miss this amazing event supporting our community!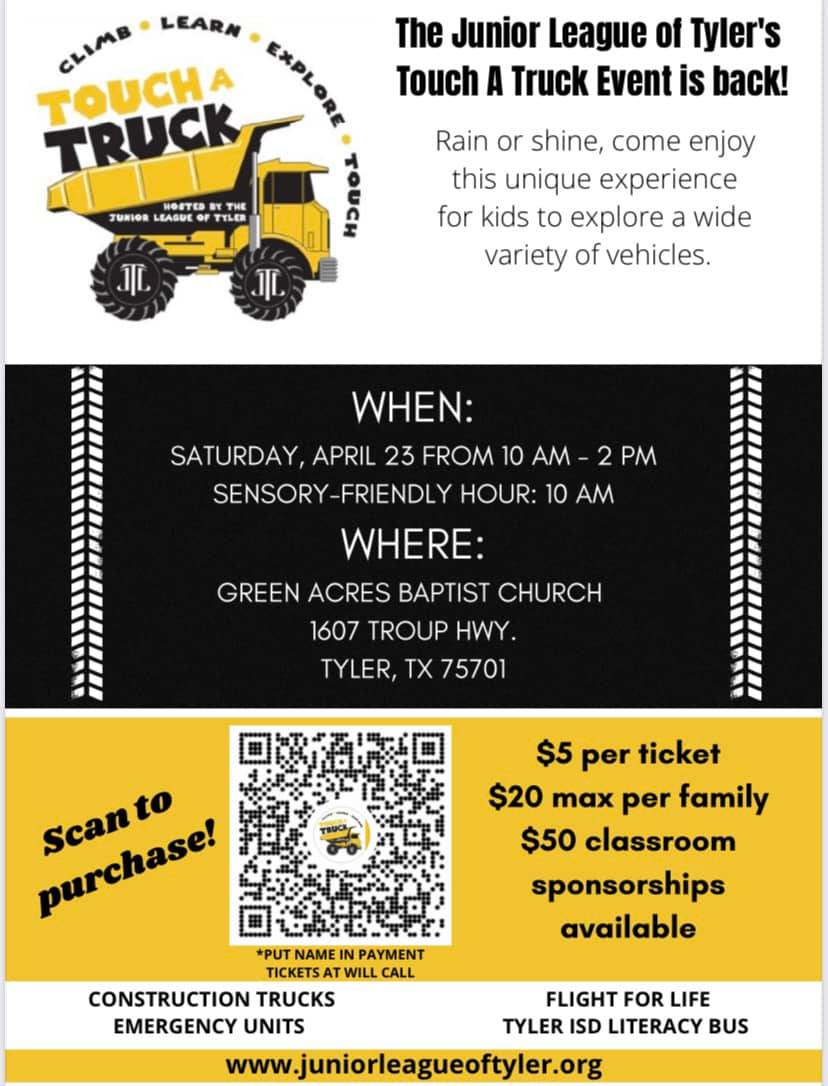 JLT's Provisional Class 2021-2022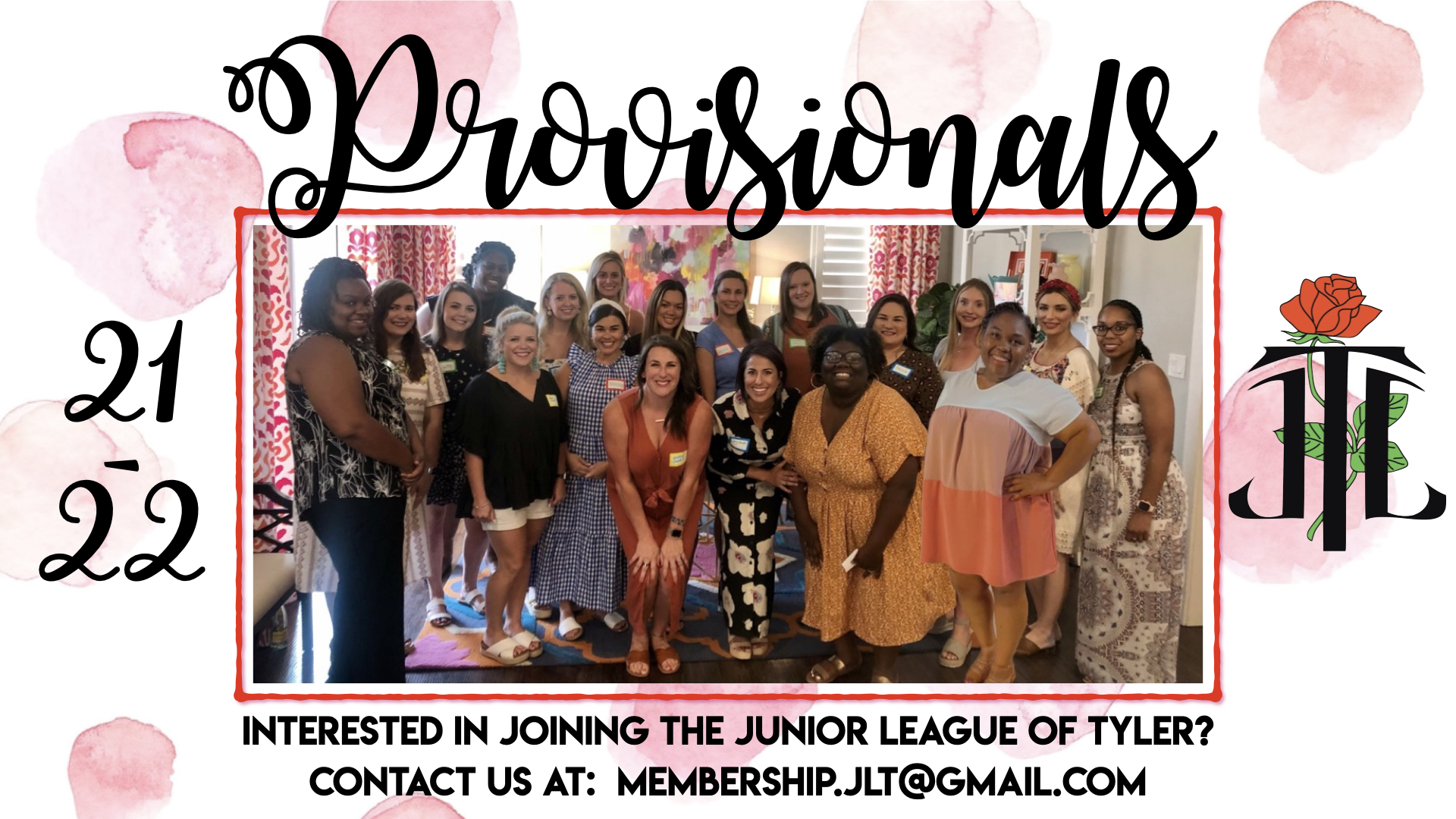 The members of the 2021-2022 Provisional Class of the Junior League of Tyler have been busy this year! Chairman Cary Choate and the Provisional Committee have developed 19 current provisional members over the last year with 275 community service hours and counting! 
The annual Provisional Retreat was held in September, and members got a closer look at the Children's Advocacy Center, East Texas Food Bank, and Mentoring Alliance partner agencies. The agencies all spoke of the impact of Junior League Grant funds and how they support their day-to-day operations and future plans. The day wrapped up with a JLT Bingo game for the provisionals to dive deeper into who we are as a League and what makes us different.  
The Class Project included assisting with the preparation for Girl Power 2.0 in January as well as facilitating contacts with the Guests of Honor. 100% of provisional members attended this year's Community Coordinating Hearing in January as well.  The provisional year will end with the Spring Soiree celebrating Sustainers and Provisionals. 
Testimony #1:  "Junior League of Tyler taught me what community really means… being able to give back while empowering each other to improve the city we all call home. I have truly enjoyed cultivating life-long friendships with the women in JLT. I can't wait to see how we continue to impact and grow Tyler!" -Alyssa Hinkle
Testimony #2: "I have had the pleasure of being a provisional and my experience has been nothing short of amazing and inspiring to say the least. I have been able to embed myself within a community of women seeking to impact the world and it's been the best decision I've ever made!" -Sha Reynolds
Day & Night of Service – April 2022
Junior League members joined together for a return of our annual Day & Night of Service event at Alzheimer's Alliance & Angel Layettes. League members donated their time & efforts to support these two amazing agencies!  Improving communities through the effective action of trained volunteers.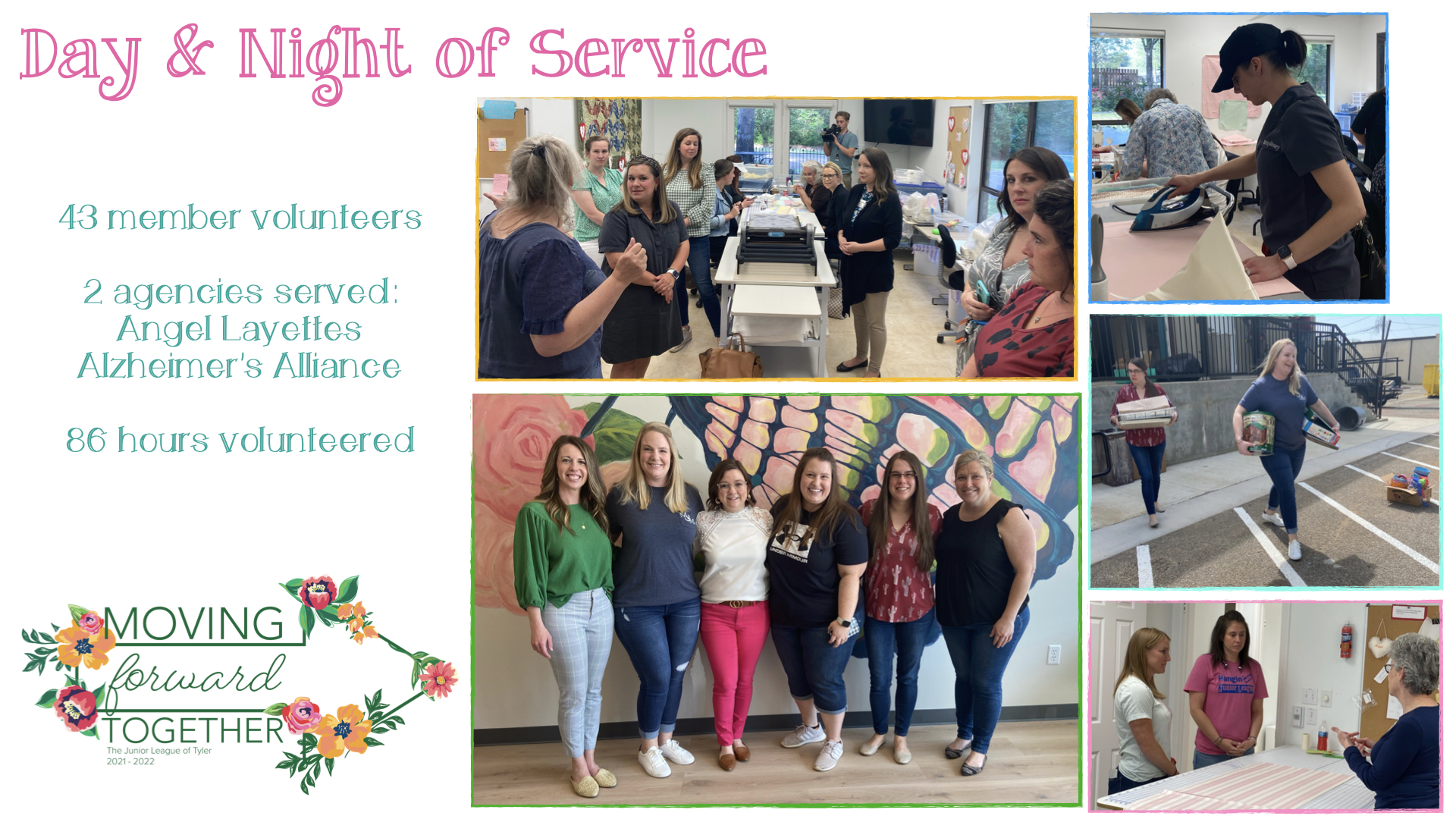 2021-2022 Year in Review