2017 Rose City Restaurant Week Menus
Please join us in the 2nd Annual Rose City Restaurant Week!
The Junior League of Tyler's
Rose City Restaurant Week
April 18-21
Participating Restaurants
Marco's Pizza
Kiepersol
Willow Brook Country Club
Hollytree Country Club
Villa Montez
1836
Juls
The Grove
Lago del Pino
Stanley's BBQ
Roast Social Kitchen
Gusano's
Jucys
Villaggio del Vino
The above participating restaurants will be donating a percentage of the preselected menus back to the Junior League of Tyler. Please see attached menus (available as of today) and stay tuned for updates via email and social media. Be sure to follow us @mistletoeandmagicjlt on Instagram and on Facebook!
Earn a 2017-2018 general meeting credit by doing the following:
Visit a participating restaurant April 18-21
Post a photo of your food on Facebook or Instagram
Tag @mistletoeandmagicjlt and use #RCRW
THE GROVE
$35 Menu
Appetizer: Spinach Dip or Captain Crunch Shrimp
Salads: Garden or Kale
Entrees: Chicken Paillard, Catfish or Pecan Salmon
Desserts: Peach Pie or Blackberry Crumble
$45 Menu
Appetizer: Lamb Lollies or Pimento Cheese Board
Salad: Pazanella or Garden
Entrees: Fried Quail, 6oz Filet or Chicken Madiera
Desserts: Chocolate Cake or Key Lime Pie
HOLLYTREE COUNTRY CLUB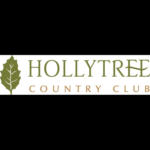 $35 Menu
1st course: Wedge Salad or Spinach Artichoke Dip
2nd course: Chicken Cordon Bleu or Pan Seared Barramundi Fish
3rd course: Italian Cream Cake or Chocolate Chip Cheesecake with Oreo Crust
$45 Menu
1st course: Strawberry Field Salad or Jumbo Coconut Shrimp
2nd course: Crab Cake Dinner or 12 ounce Ribeye Steak
3rd  course: Chocolate Loving Spoon Cake or Bourbon Pecan Pie ala Mode
3. MARCO'S PIZZA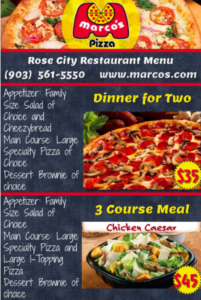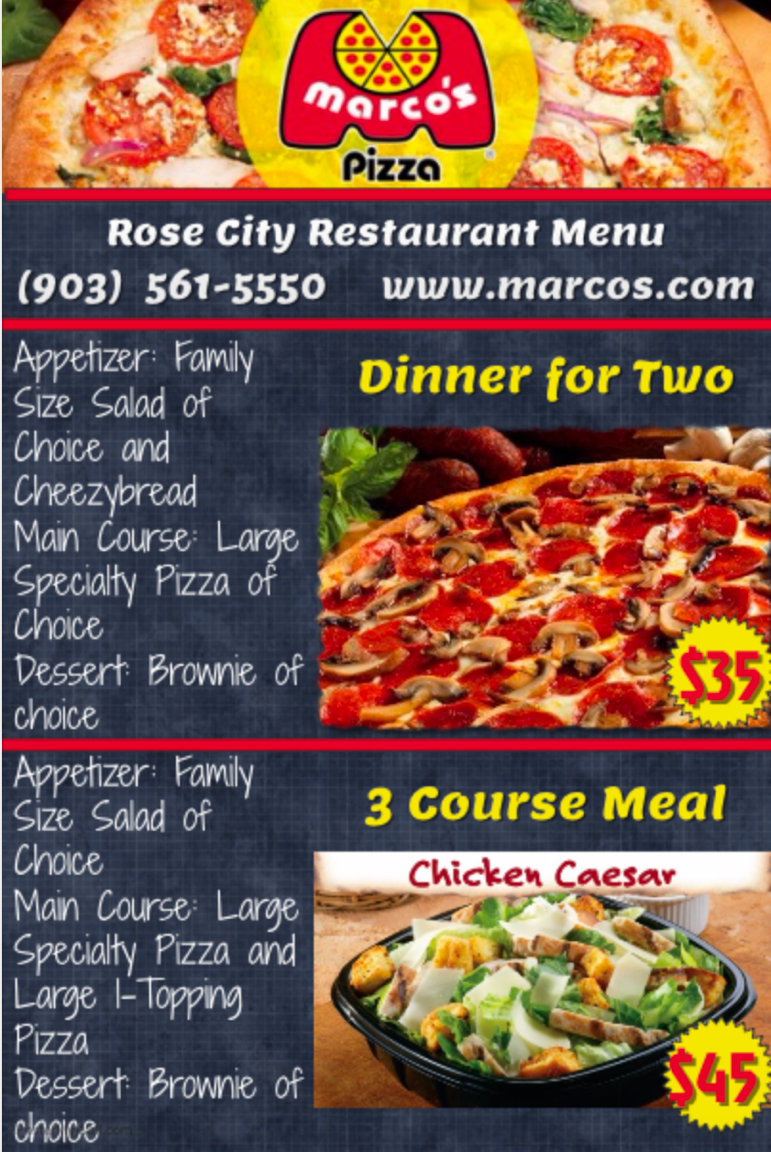 LAGO DEL PINO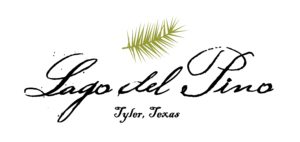 $35.00 Menu
1st course: Shrimp Cocktail or Lobster Bisque
2nd course: Smoked Jalapeno Meatloaf or Seared Costa Rican Mahi
3rd course: Sopapilla Cheesecake or Southern Bread Pudding with Bourbon Sauce
$45.00 Menu
1st course: Cheese Steak Spring Rolls or Lobster Wontons
2nd course: Cedar Plank Salmon or 14oz Ribeye
3rd course: Homemade Black Berry Cobbler or Ghirardelli White Chocolate Crème Brulee
GUSANO'S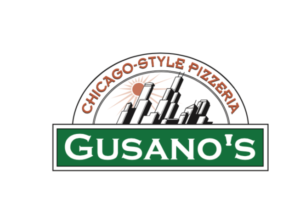 $35 Menu (Dinner for Two)
1st course: any one appetizer on the menu
2nd course: One of the following 12″ Chicago Style Pizzas
Grubs Choice, Carnivore Craze, Ditka, The Deluxe
3rd course: Hot Brownie or Cookie Stix
Willow Brook Country Club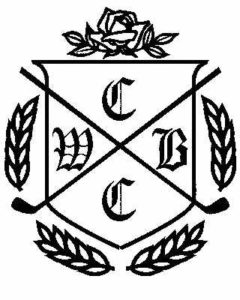 *(members only  OR guests accompanied by a member)
Tuesday-Thursday
$45.00 menu
1st course: Oyster Rockefeller
2nd Course:
Deep Eddy Spring Mix Salad OR
Tomato Mozzarella Salad
3rd Course:
6oz Filet Served with Brown Butter Mashed Potatoes, Red Wine Truffle Demi Glaze and Topped with Herb Butter OR
Pan Seared Salmon Over Parmesan Risotto and Finished with Lemon Caper Butter Sauce OR
French Roasted Chicken Breast over Sautéed Radicchio Kale Blend Drizzled with Balsamic Glaze
4th Course:
Willow Brook Favorite Mini Fudge Ball OR
Three Berry Apple Cobbler a la mode with Henry's Cinnamon Ice Cream
Friday only menu–
$45.00 Menu
1st Course:
Chef Attended
Build Your Own Salad Station
2nd Course:
Chilean Sea Bass
Over Sautéed Brussels sprouts, Orange & Grapefruit Segments with Feta Cheese and Blood Orange Glaze OR
12 oz New York Strip
Pepper Mélange Crusted with Brown Butter Mashed Potatoes and Grilled Vegetables with Green Peppercorn Demi Glaze OR
Chicken California
Angel Hair Pasta, Sautéed Grape Tomatoes, Pine Nuts, and Red Onions Topped with Sliced Avocado and Finished with Lemon Butter
3rd Course:
Live Bananas Foster Station
JULS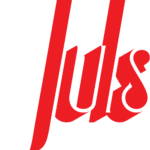 $39.99 Menu  (Dinner for Two)
1st course: Choice of sushi Roll a Tiger Roll, Crunch Roll, or Winston
2nd Course: 2 Choices of Fried Rice, Beef, Chicken or Combo
3rd Course: Choice of Shareable dessert Red Velvet or Chocolate raspberry cake
Villa Montez
Villa Montez has graciously decided to donate 15% of the proceeds from TWO of their incredible dishes.  Simply order the famous Ossobucco or New York Strip with Sautéed Shrimp specials and Villa Montez will donate 15% back to the Junior League of Tyler during Rose City Restaurant Week.
1836
1836 will be donating $1 from every signature burger order.  So visit 1836 and order The Cut Beef and Texas Lamb Burger
Kiepersol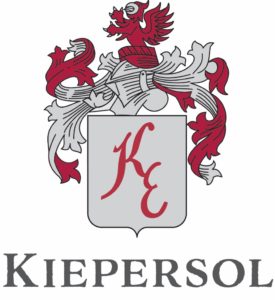 Visit the distillery for a 20% donation to be made with purchase of a Signature Rose City Restaurant Week cocktail and  on bottles of wine at the winery.
Jucys Hamburger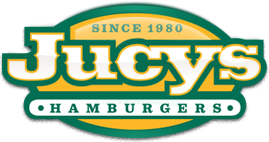 20%  Donated back to the Junior League of Tyler for ALL online orders, both locations!
Villagio del Vino

$45.00 Menu
1st Course: Choice of House Italian Salad or Tomato Basil Soup
2nd Course:
Chicken Parmesan
Shrimp Scampi
VDV Classic Lasagna
3rd Course:
Italian Canoli
ROJO TELLEZ
EXECUTIVE CHEF

Proceeds go to Junior League of Tyler
Cadillac Jumbo super deluxe – The Super Deluxe even more suped-up with candied bacon, guacamole, and an over easy fried egg.  – $13.99
8 meat Sampler – All 8 of our pecan smoked meats on one plate ribs, chicken, pulled pork, sausage, hot link, ham, turkey, and sliced brisket. No substitutions unless sold out. –  $32.99
Kids meal combo – one item from the kids menu with choice of chips and fountain drink. – $5.25

Proceeds to go to Junior League of Tyler
The Meat Haters – Organic tomato sauce, mozzarella & manchego cheese, roasted mushrooms & red peppers, caramelized onions, topped with spinach & gremolata – $12
RSK Chicken Salad – Roasted free range chicken, fennel, spinach, white beans, medjool dates, navel orange, citrus basil vinaigrette – $10
The Club Med Spread – Chickpeas, rosemary, sage, roasted garlic, arbol chile, Texas extra virgin olive oil, dough made crackers – $6