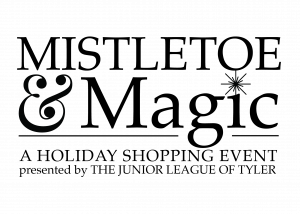 Apply to become a merchant at Mistletoe & Magic 2023
For more information on how to apply, click here.
Mistletoe & Magic Merchant Selection
The Junior League of Tyler, Inc. and the 2023 Mistletoe & Magic committee is excited to begin the merchant selection process for this year's holiday shopping event. The Mistletoe & Magic Merchant Committee will review all merchant applications. Below are factors that are considered for selection.
Quality and type of product in each category (jewelry, food, clothing, etc.) and price points.
Presentation of merchandise submitted (current merchandise photos, previous booth photos and samples are required with application).  Each merchant should provide a unique shopping experience – as if you were walking into a specialty shop.
Promptness in returning ALL completed information.
Rotation of previous participants with new merchants in the same category.
All applications will be presented to the Merchant Committee. Mistletoe & Magic reserves the right to limit the amount of similar merchandise.  If accepted to the show, only items listed on your application will be allowed. Changes must be requested in writing to the Merchant Chairman. Subleasing of merchandise on consignment will not be allowed unless requested in writing and approved by the Merchant Committee. We reserve the right to accept all or part of your merchandise.  Previous participation in Mistletoe & Magic does not guarantee selection.  Booth size and location is determined at the discretion of the Merchant Committee and on a first-come, first-served basis. You will be advised of your booth size and location within your contract.
The Junior League of Tyler receives NO percentage from merchant booth sales. 
Merchant Booth Information
Click here to view more information on booth pricing and descriptions.