The Beverly Beaird Young Woman Leadership Scholarship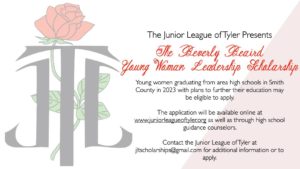 Scholarship Information:

QUALIFICATIONS FOR APPLICATION
The Beverly Beaird Young Woman Leadership Scholarship is designed for a young woman in her senior year of high school in Smith County who:
• Demonstrates excellence in and has commitment to voluntarism and improving her community
• Demonstrates innovation and creative actions that reach out to and motivate others
• Demonstrates a commitment to continuing her education
• Demonstrates at least one year's experience as a volunteer
APPLICATION INSTRUCTIONS: In order to be considered for this scholarship, please submit the following:
1. Complete the entirety of the online form, which can be found at: Beverly Beaird Young Woman Leadership Scholarship Online Application
2. Submit a written essay of 1-2 pages expressing your motivation for further education and addressing the essay questions below.
3. Submit a resume, which includes: Extracurricular Activities, Volunteer Activities, Leadership Activities, and a List of colleges/universities to which you have applied.
4. Submit 2 reference letters supporting your application: 1 school + 1 community
5. Official high school transcript submitted by your guidance counselor.
Applications must be submitted by midnight on January 15th, 2023 to be considered for the scholarship award(s).
ADDITIONAL DETAILS:
Please review the online application form prior to completion so that you can gather all necessary documents to submit the form. Only completed applications will be considered for the award. Once you have gathered all necessary documents in PDF versions (see list above), make arrangements with your Guidance Counselor to include your official high school transcript when you submit your application.
Questions may be submitted to:
Kayleigh Temple, Nominations Vice President, Junior League of Tyler jltscholarships@gmail.com | (903) 595-5426 | 1919 S. Donnybrook Ave. Tyler, TX 75701
Scholarship Information can also be downloaded HERE.
Online Application can be found HERE.