I am excited and honored to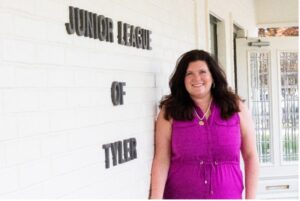 be writing this first letter as the President of the Junior League of Tyler! Although the year isofficially just beginning, our members have already been hard at work training, serving, and planning to make this year a great one. We have an incredible group of JLT volunteers that are hard-working, innovative, and driven to make a lasting impact in Tyler, TX.
This year's Junior League of Tyler theme is Better Together. I truly believe that we are able to accomplish so much more by combining our efforts together, and that learning from and serving alongside one another inspires us to be better leaders. While I chose this theme with the Junior League in mind, I think it also applies to each of you. Whether you are reading this as a volunteer, a donor, or a community partner, you are important and valued part of the work we do. Thank you for coming alongside us for our 72nd year of serving our community!
The Junior League doesn't stop in the summer. We just awarded grants to 13 community partners and will be sending out volunteers to them alongside the grant dollars. You can catch us "on the road" with the TISD Literacy Bus – helping to get more books in the hands of elementary aged kids! Planning is already under way for our annual Girl Power event for sixth grade girls, and our Care Closet project will be preparing hygiene kits to stock up our local middle schools.
Here's to a wonderful year of being Better Together!
Sincerely,
Jamie Cooper
President 2022 – 2023