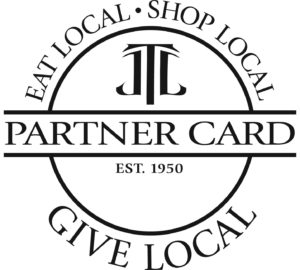 Thank you to all of our 2018 Partners. Stay tuned for more information about 2019's event!
What is Partner Card?
The week of November 3-11, anyone that purchases a Partner Card will receive access to exclusive deals from local businesses who have partnered with the Junior League of Tyler. Donate $50 to gain access to JLT Partner Card and map out your shopping week, all while giving back to our community!
How to purchase a Partner Card
Click the following link to purchase a Partner Card for $50 and enjoy the exclusive deals:  zurly.com/jlt
2018 Partners
1836 Texas Kitchen
Alex & Afton Vintedge
BCBG Max Azria Tyler
beFree YOGA
Brands & Threads
Bridgette's
Center for Aesthetic & Laser Medicine
Clay's Cuts
Cole & Co.
Crystal Springs Spirits
Delaine Daniels, DDS
El Guapo Records
Elbert Wright's Five O Two Hair Studio
ETX Brewing Co.
The Foundry Coffee House
The Grove Kitchen & Gardens
Haute Totz
Hembree Chiropractic, P.A.
Hutto Orthodontics
Jewel
Juls Events
Lola's Handcrafted Sandwiches
Massive Action Training
Miller's Point
Moon Rivers Naturals
Moss
Old Chicago Pizza & Taproom
The Perfect Peony
Ragsdale & Martin Optical
Ramsey Fritz Jewels
Regency Cleaners- Belinda & Steve Short
R. J.'s Jewelers
Roast Social Kitchen
Roost Chicken Salad & Deli
Rose City Pharmacy
Sadie's Stitchery
Spinout
Stanley's Famous Pit Barbecue
SubZero Cryotherapy
Susan Robinson Fine Jewelry
Sweet Gourmet
True Vine Brewing Company
Villagio del Vino
Partner Card Kick Off Party: Saturday, November 3
Join us for the 2018 Partner Card Kick Off Party Saturday, November 3 at the La Piazza Shopping Center at 4815 Old Bullard Road. There will be lots of activities going on from 1pm-8pm, so check out the schedule below for additional details:
1pm-5pm:  Open house at Center for Aesthetic and Laser Medicine, featuring demos, discounts, and giveaways
4pm-5pm:  Yoga led by BeFree Yogo on the Villagio del Vino patio. Happy hour to follow.
5pm-8pm:  Live music from Paul Shafer sponsored by Stanley's Famous Pit Barbecue and Roast Social Kitchen